Salt
Directed by Philip Noyce
Starring Angelina Jolie, Chiwetel Ejiofor, Liev Schreiber
2010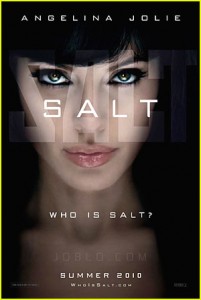 It is regrettable that some people call Angelina Jolie "Angie". I find this overly-familiar, even from her father (who is only occasionally permitted contact) and her partner, Brad Pitt, who appears to see an all-American normalcy in her that the rest of the world does not. Angie is about as much an Angie as I am a Cressida or Sheherazade. Angelina is "Angelina", but she is really only "Angelina Jolie", since "Angelina" is incomplete and also over-familiar, though less intrusive. "Jolie" is too weak, too accessible and too kind to describe this unusual woman. "Angelina" may have to do here though, since her full name is so exhaustingly long. Prolific, even. It is embarrassing, however. I feel like an unhinged gossip columnist.
Is Angelina Jolie the most beautiful woman on earth? She may well be. She is certainly among them. Anyone who sees, for example, the runway sequence in Gia (1998) in which she weaves her way druggedly along in a Botticelli-inspired bridal gown, sees something very much like an angel. The vulgarity of her over-determined features and titanic lips simply makes her beauty universal, over-written enough that it can be perceived by the entire world: Angelina's beauty plays in Europe, Latin America and India, for example, for different reasons. There is something for everyone in her magnificent face. She looks like one of the great beauties of the 1950s on steroids, like a next-generation take on the human race.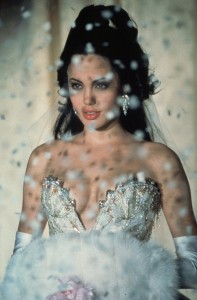 Though one or two tats more and she will be unfilmable. Anyone see the absurdity of a film called Original Sin (2001) set in a 19th century Cuban plantation in which she was tatted up like a gang-banger? The bathtub scene washed away the foundation covering her tattoos, which made her a rather unusual historical damsel who resembled a death-row inmate.
One thing to know about Angelina is that she only occasionally uses stuntmen. For "Salt", she learned Krav Maga (a crunchy Israeli martial art involving the breaking of a bunch of bones) and Muay Thai. (Krav Maga naturally won out in the achy-breaky fight sequences.) She takes lots of lessons for each film in things like knife-throwing and ball-kicking. Recreationally, she learned how to fly a plane, and her reasons for doing so are fascinating. Little Maddox, her first child, she discovered, enjoyed watching planes take off and land at an airstrip. It wasn't enough to bring the child and sit next to him in the grass, watching. Angelina had to be the pilot the child observed.  Brad Pitt has since taken lessons as well, which I'm sure brings his family no end of pleasure to contemplate. It would not really surprise me if Angelina eventually dispensed with the plane, and simply just took flight. Angelina is always coming into Being.