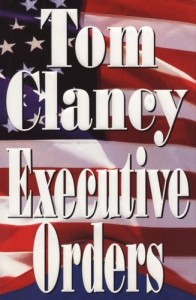 Tom Clancy's longtime hero, former CIA analyst Jack Ryan, has managed to assume the Presidency, Gerald Ford-style, without ever having been elected on a presidential ticket.
Unlike Ford, however, Ryan had never been elected to any public office at all.
Asked by President Durling to serve as Vice President, after the previous Vice President is forced to resign in the wake of a sex scandal, Ryan reluctantly agrees to take on a largely ceremonial office. The catch for the non-politician Ryan, however, is that the Vice-Presidency is only a heartbeat away from the most burdensome job in the world, and one which Ryan shivers at the thought of undertaking.
Then the incredible happens, when a grief-striken Japanese pilot who lost family in a brief Japanese-American shooting war, mans a jumbo jet during Ryan's swearing-in ceremony and crash lands into the Capitol, thereby all but obliterating government. The President, First Lady, the entire Supreme Court, nearly all the Cabinet and most members of Congress are killed in a few calamitous moments.